Resep ini basic buat bikin Donut dan cinnamon Rolls. Kebetulan pengen menikmati cinnamon donut yang anget mumpung cuaca lagi dingin banget belakangan ini.
Basic Donut or Cinnamon Rolls
1 pkg. active dry yeast
1/4 c. warm water
3/4 c. warm milk, scalded then cooled
1/4 c. sugar
1 tsp. salt
1/4 c.
shortening
Gue ganti butter
3 1/2 - 3 3/4 c. flour
Dissolve yeast in warm water. Stir in milk, sugar, salt and shortening. Add 2 cups flour. Beat until smooth. Add enough flour to make dough easy to handle.
(setelah gue coba, biar adonan sampai kalis perlu ditambah lagi sekitar 3/4 cup flour lagi)
Knead until smooth and elastic, 5 minutes. Raise in greased bowl until double. Punch down.
Roll out cinnamon rolls
or cut donuts. Let rise until double. Bake cinnamon rolls until golden brown, about 15-20 minutes. or Fry donuts.
Buat flavouring Sugarnya:
1,5 cup icing/caster sugar
2 tsp cinnamon powder

Campur rata bahan diatas taruh di wadah container, gulungkan donut yang sudah digoreng ke flavoring sugarnya.

Makan anget2 dengan teh atau kopi paling nikmaat!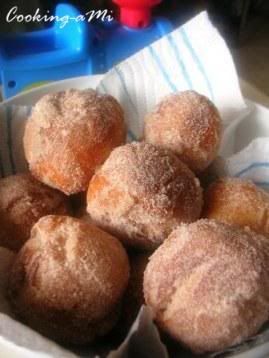 Warm donut, Love it!