Yummy! Gw dan Suami tergila-gila Cinnamon Rolls ini apa lagi kalau anget2! Sambil minum teh anget atau kopi... Mmmm nikmatt banget! Berhubung hari ini cuaca lagi mendung dan Gw lagi punya bahan-bahan buat bikin roti akhirnya bisa juga praktek bikin roti untuk pertama kalinya. Padahal Gw paling males ngulenin roti dan gak sabar nunggu2 adonannya dikembangin dulu.. Tapi I guess, it's okay to labouring for a while for the sake of fresh Cinnamon Rolls...
Gw dapat resep ini dari
Sini
setelah sekian lama ngubek-ngubek berbagai versi cinnamon rolls. I finally choose this one.. the more complicated, I wish the result would turn out great! :P
Makes 20 to 24 rolls
RECIPE INGREDIENTS
For Basic Sweet Dough:
4 - 4 1/3 cups all-purpose flour
1 package active dry yeast
1 cup milk
1/3 cup sugar
1/3 cup butter or margarine
1/2 teaspoon salt
2 eggs
For Rolls:
3 tablespoons butter or margarine, melted
1 1/2 cup granulated sugar
2 teaspoons ground cinamon
3/4 cup raisins (optional)
For Icing:
1 cup sifted powdered sugar
1/4 teaspoon vanilla
3-4 teaspoons milk or orange juice
RECIPE METHOD
FOR BASIC SWEET DOUGH: In a large mixing bowl combine 1 1/2 cups of the flour and the yeast; set aside. In a saucepan heat and stir milk, sugar, butter or margarine, and salt till mixture is warm (120° to 130°) and butter or margarine is almost melted. Add to flour mixture along with eggs. Beat with an electric mixer on low speed for 30 seconds, scraping bowl constantly. Beat on high speed for 3 minutes. Using a wooden spoon, stir in as much of the remaining flour as you can.
FOR ROLLS: Prepare basic sweet dough and let rise once. Punch dough down. Turn out onto a lightly floured surface. Divide dough in half. Cover and let rest for 10 minutes. Roll each half into a 12x8-inch rectangle. Brush with melted butter or margarine. In a small mixing bowl stir together granulated sugar and cinnamon; sprinkle onto dough. If desired, sprinkle with raisins.
Referensi untuk step roll ini bisa dilihat di sini
Roll up each rectangle, jelly-roll style, starting from one of the long sides. Pinch seams to seal. Cut each roll into 10 to 12 slices. Place slices, cut-side down, in single layers in two greased 9x12-inch round cake pans. Cover and let rise in a warm place till nearly double (about 30 minutes). (Or, cover with oiled waxed paper, then with plastic wrap, and refrigerate for 2 to 24 hours.)
If dough is chilled, let stand, covered, for 20 minutes at room temperature. Puncture any surface bubbles with a greased wooden toothpick. Bake in a preheated 375 degrees F oven for 20 to 25 minutes, or till golden brown. Cool slightly. Transfer to a large platter.
FOR ICING: In a small mixing bowl stir together powdered sugar and vanilla. Stir in enough milk or orange juice to make a smooth icing of spreading consistency. Spread over rolls. Serve warm or cool.
Gw gak pake Icingnya karena too much sugar already! huehehe!
Finally I made it Yeeeyy! my first bread not just ordinary bread, its cinnamon rolls everyone! I give this recipe 5 stars rate!
I made 2 type cinnamon rolls, the individuals and the bundling all of them are great!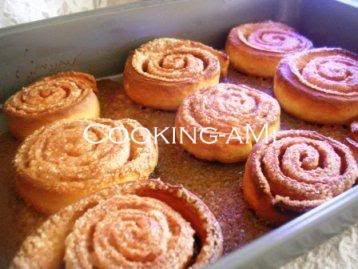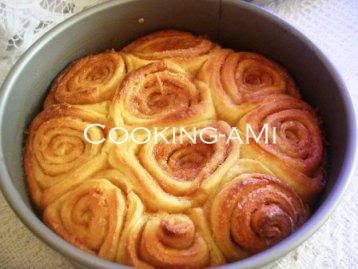 Fresh from the oven Cinnamon Rolls... no one can resist...