Resep ini timeless banget.. karena ini resep andalan Gw sejak Gw SMP! It's been eleven years! Bahkan keluarga Gw tiap kali selalu mempercayakan Gw bikin brownies. Berhubung Gw Coklat Lovers otomatis bikinnya juga dari hati hehehe. Asal resep ini dari sahabat kakak Gue mbak Vira. Bahkan Gw masih punya resepnya di kertas kucel yang sudah berumur 11 tahun, masih dengan tulisan tangan mbak Vira! Thanks ya Mbak.
This is the best brownies recipe ever!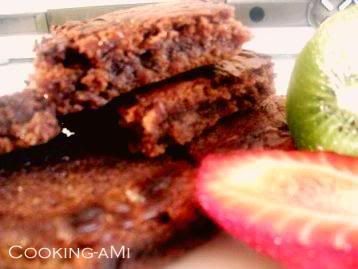 1/2 Cup margarine/butter
12 Oz Semisweet Chocolate Chips
1 2/3 cup Gula
1 1/4 cup tepung (all purpose flour)
1 sdt Vanilla
1/2 sdt baking powder
1/2 sdt garam
3 telur
Panaskan Oven 350 derajat F atau 180 derajat C.
1. Coklat dilelehkan,Margarine dilelehkan campur rata.
2. Campurkan bahan yang lainnya ke adonan coklat dan aduk rata.
3. Tuangkan ke Loyang yang sudah dimentegai.
Bakar lebih kurang 30-35 menit- Jangan kelewatan.. nanti angus!
Kalau mau pake Frosting (I prefer not to use the frosting, tanpa Frosting pun rasanya sudah Supperb!)
1 Oz Unsweetened Chocolate
1 sdt margarine/butter
1 cup tepung gula
1 sdm air panas
Lelehkan coklat dan margarin lalu campur rata, masukkan gula dan air aduk sampai rata. Kalau perlu tambahkan air panas secukupnya sedikit demi sedikit lalu dioleskan di brownies yang sudah didinginkan.
Potong2 Browniesnya lebih kurang 2 X 1 1/2 inch
The 11-yrs Old manuscript warnanya dah blepotan adonan gitu hehehe!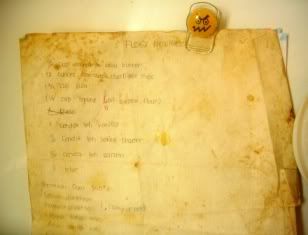 Hope You'll Love it Too!