Berhubung pas take over apartment ada steak frying tool yang gak pernah Kita pake, akhirnya pas ke Halal Butcher hari Minggu kemarin Suami minta dibikinin Steak. Akhirnya kita nyobain Rib Eye Steak. Menurut butchernya Rib Eye Steak ini the most tender steak karena ini diambil dari daging dibagian dekat tulang rusuk dari Sapi dan bagian itu gak jarang digerakkan. jadi penasaran akirnya nyobain juga ;)
Khusus resep ini otomatis ada pelengkapnya jadi 4 in one gitu, antara lain:
1. Rib-Eye Steak
2. Delicious Mashed Potato
3. Onion Sauce
4. Cheese Asparagus
Cocok banget jadi menu super special buat buka puasa istilah suami :D
1. Rib Eye Steak
Rib-eye Rub:
Salt and ground black pepper
Chili powder
Pepper
In a small bowl, combine all ingredients, to taste. Adjust the ratio of spices to your preference.
Pan-broil
Heat a steak fryer until hot. Add oil or butter if desired. Place rib-eye steak on the fryer and cook 8 to 10 minutes, turning once. Remove steak when it reaches desired degree of doneness.
2. Delicious Mashed Potato
INGREDIENTS
2 pounds of potatoes
1 cup of milk
6 tablespoons of butter
Salt and pepper as needed
1/2 Brown onion cincang halus (optional)
1 tbsp Heavy Cream (optional)
PREP WORK Start a large pot of water boiling. You want to add just enough water to cover all the potatoes. Peel and quarter the spuds and you are ready to make great mashed potatoes at home.
HOW TO MAKE AT HOME
1. Add some salt to the boiling water and cook until the potatoes are tender. (About 15 minutes)
2. Drain the potatoes and mash by your method of choice. (I prefer a potato ricer)
3. Pada panci terpisah lelehkan butter lalu masukkan brown onion tumis sampai halus, masukkan milk dan heavy cream.
4. Masukkan salt and pepper secukupnya.
5. Masukkan mashed potato dan aduk rata.
3. Onion Sauce
INGREDIENTS:
3 cups thinly sliced onions
2 tablespoon butter
1 tablespoon olive oil
2 tablespoons cornstarch
1 can condensed beef broth, undiluted
1/4 teaspoon Worcestershire sauce
1 tablespoon Parmesan cheese
PREPARATION:
In a large saucepan or deep skillet over medium heat, cook sliced onions in butter and olive oil. Cook, stirring occasionally, until onions are lightly browned, about 20 minutes. Stir in cornstarch. Add beef broth and Worcestershire sauce.
Cook, stirring constantly, until mixture is thick and bubbly. Stir in Parmesan cheese and heat through.
Makes about 2 cups of onion sauce or topping.
4. Cheesy Asparagus
Poach the asparagus (just below the boiling point) in a large amount of lightly salted water. If the asparagus is tender and thin, then time the cooking for 12-14 minutes. If the asparagus stalks are thicker, 18-20. Add the asparagus to the cooking water after it is at the simmering point.
When the asparagus is tender, remove from the cooking pot and drain. Discard string and arrange asparagus on a heated serving plate or 6 individual dishes. Sprinkle evenly with Parmesan cheese. Melt the 1/2 cup of butter in a saucepan. Pour over the asparagus.
Selamat Menikmati Tender Steak dengan pendampingnya....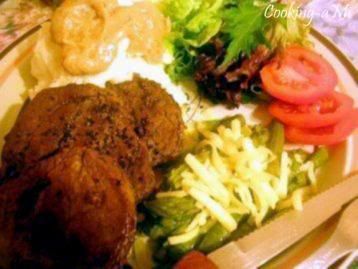 Mmmm Mmmmm...so tender lickin good :P