Spesial buat suami yang suka banget sama makanan yang ada kelapanya.. biskuit kelapa, kue kelapa dll. Surprise teman nge-teh di sore hari. Suami seneng banget.. begitu di oven baunya harumm banget.. dan teksturenya gak berat.
Mohon maaf sumber resep lupa dari mana yang jelas hasil browsing sana-sini di folder kumpulan resep.
Ingredients:
1 1/4 cups flour
1 teaspoon baking powder
1/4 teaspoon salt
1 1/2 teaspoons vanilla
1/4 teaspoon almond extract
2/3 cup heavy cream or half and half
(gue ganti pake sour cream)
1/2 cup softened butter
3/4 cup sugar
2 eggs
1 3/4 cups sweetened flaked coconut
(gue pake dried coconut flaked yang halus)
Directions:
1. Heat oven to 350ºF. Grease and flour 12 muffin cups or line with paper liners.
2. Whisk flour, baking powder, salt and coconut flakes in a small bowl.
3. Stir extracts into cream. Beat butter in large bowl with an electric mixer on high speed for 1 minute. Gradually add sugar and beat until fluffy. Reduce mixer speed to medium. Beat in eggs until blended. Reduce mixer speed to low.
4. Alternately beat in flour and cream mixtures, beginning and ending with the flour, just until blended. Stir in coconut.
Fill prepared muffin tins three-fourths way full.
Bake 18 to 20 minutes or until muffins test done. Cool in pan on wire rack.
Yield: 1 dozen.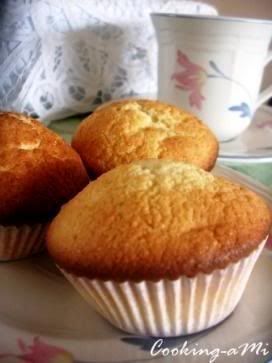 Surely will satisfy coconut lovers.. ;)