This one even better than Killer Cheese Cake! Yummy! ratingnya
5 dari 800 reviews di allrecipes
! pas awal bikin suami udah gak sabar aja minta potongin anget2 hihihi (jangan dicoba ya) karena rasanya gak maksimal. Tapi begitu besok paginya habis diinepin seharian di kulkas pas potong dan makan langsung dapat sun sayang dari suami! *jadi malu pengen nyebur ke kali* Yuk cobain yang ini bikinnya gak seribet
Killer Cheese Cake
tapi hasilnya kayak Cheese Cake yang ada di Cake Shop. Dan bisa dihias dengan topping apa aja!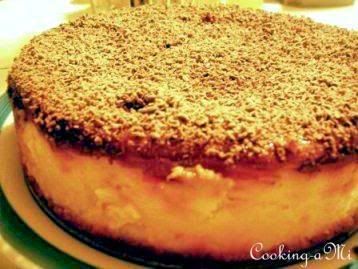 Ini dia resepnya yang huruf miring itu modifikasi gue.
Original recipe yield: 1 - 9 inch springform pan.
Prep Time:30 MinutesCook Time:1 Hour Ready In:7 Hours 30 MinutesServings:12 (change)
INGREDIENTS:
15 graham crackers, crushed
(gue pake 1,5 cup arnotts marie biskuit yang di hancurkan pake blender)
2 tablespoons butter, melted
4 (8 ounce) packages cream cheese (
gue pake philadelphia cream cheese)
1 1/2 cups white sugar
3/4 cup milk
4 eggs
1 cup sour cream
1 tablespoon vanilla extract
1/4 cup all-purpose flour
--------------------------------------------------------------------------------
DIRECTIONS:
1. Preheat oven to 350 degrees F (175 degrees C). Grease a 9 inch springform pan.
2. In a medium bowl, mix graham cracker crumbs with melted butter. Press onto bottom of springform pan.
3. In a large bowl, mix cream cheese with sugar until smooth. Blend in milk, and then mix in the eggs one at a time, mixing just enough to incorporate. Mix in sour cream, vanilla and flour until smooth. Pour filling into prepared crust.
4. Bake in preheated oven for 1 hour. Turn the oven off, and let cake cool in oven with the door closed for 5 to 6 hours
(biar gak perlu nunggu 5-6 jam ini Gue coba tips dari salah satu reviewer resep ini dengan naruh 1 loyang air di bawah rak cheese cake ketika di panggang (water bath) dan hasilnya gak crak! yipeey! jadi setelah itu cukup ditaruh 30 menit saja setelah oven mati lalu, sisi2 samping cheese cake di pisahkan dengan loyangnya dengan menggunakan pisau tajam (tapi tidak dikeluarkan dari loyang)sebelum dimasukkan ke kulkas agar tidak cracking tertarik ke sisi luar loyang);
this prevents cracking.
5. Chill in refrigerator until serving.
(minimal di Chill selama 2 jam)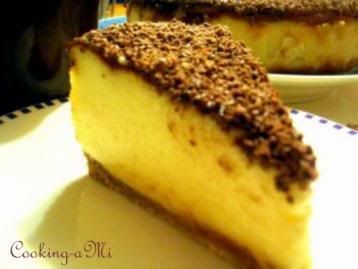 Just like the one you bought from your cake shop!
Pls See this delicious Cheese cake with different toppings:
1.
Whipping Cream and Fresh Strawberries
2. Strawberry Pudding