Buat Suami yang kepengen di bikinin Blueberry Pie di Bdaynya. Akhirnya gue pake resep dari Betty Crocker. BIkin malam sebelum hari H udah habis setengah Pienya..
Dijamin bikin nambah2 terus. Berhubung suami minta Blueberry Pie Gue Modifikasi buahnya gak dicampur raspberry. Trus gue juga pake Blueberry in syrup jadinya gulanya gue kurangin 1/3 takaran resep.
Prep Time:30 min
Start to Finish:1 hr 30 min
Makes:8 servings
Pastry
2/3 cup plus 2 tablespoons shortening
2 cups all-purpose flour
1 teaspoon salt
4 to 6 tablespoons cold water
Filling
3/4 cup sugar
1/2 cup cornstarch
1/2 teaspoon ground cinnamon, if desired
2 1/2 cups fresh blueberries
2 1/2 cups fresh raspberries
1 tablespoon lemon juice
2 tablespoons butter or margarine
1. Heat oven to 425ºF. In medium bowl, cut shortening into flour and salt, using pastry blender or crisscrossing 2 knives, until particles are size of small peas. Sprinkle with cold water, 1 tablespoon at a time, tossing with fork until all flour is moistened and pastry almost cleans side of bowl (1 to 2 teaspoons more water can be added if necessary).
2. Gather pastry into a ball. Divide pastry in half and shape into two flattened rounds on lightly floured surface. Roll pastry into circle 2 inches larger than upside-down 9-inch pie plate with floured rolling pin. Fold pastry into fourths; place in pie plate. Unfold and ease into plate, pressing firmly against bottom and side.
3. In large bowl, mix sugar, cornstarch and cinnamon. Gently stir in blueberries and raspberries. Spoon berry mixture into pastry-lined pie plate. Sprinkle with lemon juice. Cut butter into small pieces; sprinkle over berry mixture.
4. Roll second round of pastry; cut into strips 1/2 to 1 inch wide. (Use a pastry wheel for decorative strips.) Place 5 to 7 strips across filling in pie plate. Weave a cross-strip through center by first folding back every other strip going the other way. Continue weaving until lattice is complete, folding back alternate strips each time cross-strip is added. (To save time, do not weave strips. Simply lay second half of strips across first strips.) Trim ends of strips. Fold trimmed edge of bottom pastry over ends of strips, building up a high edge. Seal and flute.
5. Cover lattice top with aluminum foil to prevent excessive browning; remove foil for last 10 minutes of baking. Bake 50 to 60 minutes or until crust is golden brown and juice begins to bubble through lattice crust.
High Altitude (3500-6500 ft) Remove foil for last 5 minutes of baking.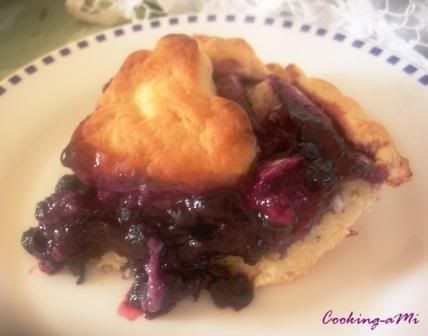 Especially for Blueberry lovers..