Sejak Suami masuk kuliah intensif bulan puasa ini suka banget order menu buka puasa dari kelas lewat EMAIL! hihihi ketauan bangetkan kalau gak konsen di dalem kelas...
Nahh hari itu Suami minta buka pake Cheese cake dan
Steak Ayam Kecap
. Nah bagusnya baru ordernya siang2 gitu padahalkan cheese cake cihuinya kalau didiemin semaleman. Akhirnya keinget resep Microwave Cheese Cake ini bikinnya cepet set set sett! Kalau yang gak mau ribet bisa dicoba loh.. Tapi Gw pribadi lebih prefer
NY Cheese Cake
yang di bake ;). Karena kalau yang ini lebih nge-dessert gitu.. Tapi Suami minta dipotongin mulu buat buka lohh berarti Oke jugaa.. :P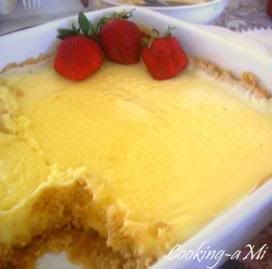 Ingredients:
1. 100 g butter
2. 185 g plain sweet biscuit crushed finely
(Kalau Gue pake 3 cup biar bisa di dinding2nya)
3. 250 g cream Cheese
4. 3/4 cup sour cream
5. 2 eggs
6. 1/2 cup caster sugar
7. 2 tsp grated lemon rind
8. 1/4 cup lemon juice
9. Whipped Cream
Cara Memasak:
1. Melt butter on high for 1 minute. Stir in Crumbs.
2. Press firmly into base + sides of 25 cm pie dish.
3. Cook on high 1 minute set aside to cool.
4. Beat Cream Cheese + sour Cream till smooth.
5. Add egss, sugar, rind and juice. Beat Well.
6. Pour into crumb crust spreading evenly.
7. Cook it on Medium (50%) for 10 minutes. Cool completely (dan masukkan ke fridge minimal 4 jam sebelum di nikmati).
8. Spread with whipped Cream. top with fruit and serve!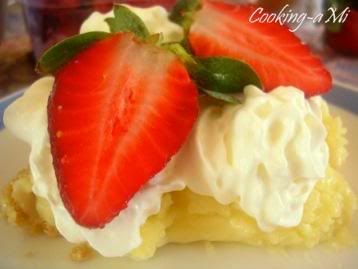 Delicious Dessert!