Bikin ini awalnya karena ada sisa Oatmeal uncle toby'snya Addry langsung sibuk cari oatmeal cookies dari webbynya
Betty Crockers
.
Gak sabar pengen bikin lagi euy!. Hasilnya moist seperti Cookies ala Mrs. Fields yang stallnya selalu harum semerbak itu. Gak sadar begitu buka, Gue langsung makan 7 keping cookies ukuran extra-large itu dududuuhhh.... Untung oatmealnya gak bikin merasa bersalah-bersalah amat (ngeless dehh) :D
Bahan-bahan:
1 1/2 cups packed brown sugar
1 cup butter or margarine, softened
1 teaspoon vanilla
1 egg
2 cups quick-cooking oats
1 1/2 cups Gold Medal® all-purpose flour
(Gue pake flour merek biasa)
1 teaspoon baking soda
1/4 teaspoon salt
1 cup semisweet chocolate chips (6 oz)
(karena keabisan Gue pake Milk cooking Choc di slice medium pake pisau)
1 cup chopped nuts, if desired
1. Heat oven to 350°F. In large bowl, stir brown sugar and butter until blended. Stir in vanilla and egg until light and fluffy. Stir in oats, flour, baking soda and salt; stir in chocolate chips and nuts.
2. Onto ungreased cookie sheet, drop dough by rounded tablespoonfuls about 2 inches apart.
3. Bake 9 to 11 minutes or until golden brown. Cool slightly; remove from cookie sheet to wire rack.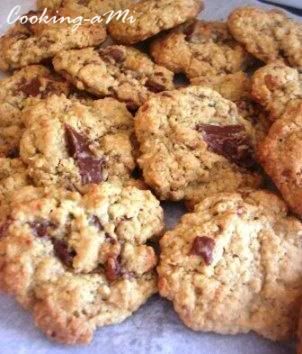 Me Want Some more Cookies...