"
As you can see, the ingredients are all pretty everyday things. However, my tip for getting the very best out of this recipe is to make sure that you try and get the best ingredients taht you possibly can."
Jamie Oliver
Akhirnya bisa menepati janji juga untuk bikin cheese cake Jamie Oliver. Sebenarnya minggu lalu udah mau bikin tapi berhubung begitu sempat, ternyata double cream yang berumur pendek itu sudah keburu kadaluarsa :(
Hasilnya Cheese cake ini lebih stable dibanding New York Cheese cake yang biasa gue bikin. Sepertinya karena pake corn flour, dan rasanya lebih creamy karena double creamnya. Secara general I love it, walaupun kalau disuruh memilih I still prefer resep
New York Cheese cake andalan
karena pake sour cream, I just love sour cream ;)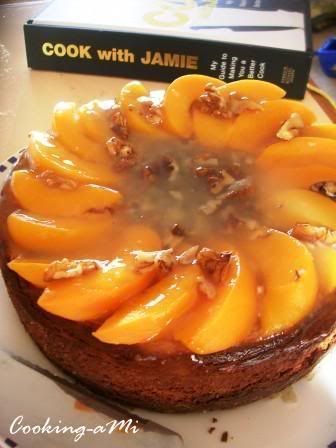 Saran Gw, kalau suka yang lebih creamy.. go for this recipe.. dijamin bakalan happy deh ;)
Let's get started!
Serves 8-10
150g/ 5.5oz unsalted butter, melted plus extra for greasing.
250 g/9oz digestive biscuits, crushed (gw pake arnotts marie)
115 g/4oz caster sugar
3 tbsp cornflour
900g/2lb full-fat cream cheese, at room temperature
2 large free-range or organic eggs
115 ml/4fl oz double cream
1 vanilla pod,scored lenghtways and seeds removed, or 1/2 tsp vanilla etract
Zest of 1 lemon
Zest of 1 Orange
For the Cherry compote
400g/14oz stoned cherries
3 heaped tbsp caster sugar
Ocing sugar for dusting
I substitutes the cherry compote into Peach and Walnut topping instead:

Topping:
2 tablespoons sugar
1 tablespoon cornstarch
1 package (10 ounces) frozen sliced peaches in syrup, thawed, about 2 cups
1/4 cup toasted slivered almonds/walnuts

Two to four hours before serving, prepare topping. Combine sugar and cornstarch. Drain syrup from thawed peaches and stir into the sugar and cornstarch mixture. Cook, stirring constantly, until thickened and clear. Add sliced peaches; heat. Spoon peach topping over cheesecake, arranging peach slices to create a pinwheel effect. Sprinkle with toasted slivered almonds. Chill until serving time. Carefully remove sides of pan to serve.
Makes one 9-inch cheesecake, about 12 to 16 servings.
Directions:
1. Preheat the oven to 180C/350F/gas4, and grease and line the bottom and sides of 24cm/9-1/2inch springform cake tin. Mix the biscuits and butter in a boowl, press into the nase of the prepared tin and cook for 10 minutes. Then remove from the oven and allow to cool.
2. Turn the oven up to 200C/400F/gas6. Combine sugar and cornflour in a bowl. Add the cream cheese and beat ideally with an electric whisk, until creamy. Add the eggs and beat well. Gradually add the cream, beating until smooth, then beat in the vanilla seeds or extract and lemon and orange zest.
3. Scrape the mixture on to the biscuit base, and gently shake it to level out the surface. Put the cheesecake in the center of the oven and bake for 40 to 45 minutes until the top golden brown and the filling has set around the edges. (A piece of foil over the top will stop it browning too much). Let it cool at room temperatur and serve after 3 hours, or, for slightly firmer texture, put it in the fridge until it's nice and cold.
(I Prefer to put it in the fridge overnight)
4. Before serving, put the cherries in a pan, sprinkle over the sugar and add a splash of water. Put on a low to medium heat and simmer gently for 10 minutes. When the compote has reduced down, it might be a little dry, so add splash water to loosen it. Remove from heat and let it cool down, then serve spooned over the cheesecake with a dusting of icing sugar.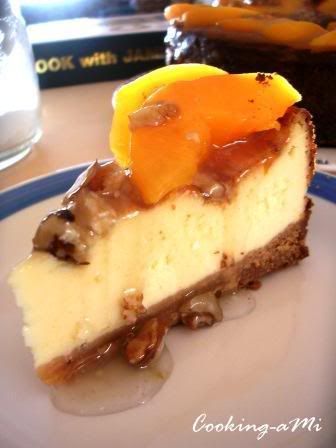 So creamy... yum..!